<![if !vml]>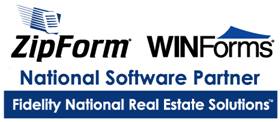 <![endif]>           <![if !vml]>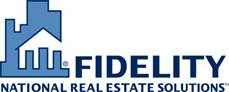 <![endif]>            
Fidelity National Real Estate Solutions is pleased with our strategic alliance with  ZipForm® and WINForms® which facilitates the seamless integration of our products.  Real estate professionals can now transfer pertinent information and forms from ZipForm and WINForms to Fidelity's TransactionPoint® transaction management platform, where key events, service orders and documents related to a real estate transaction may be created, viewed and tracked. 
ZipForm is a powerful, easy-to-use real estate contract software program that is helping real estate agents and brokers increase productivity while decreasing the amount of time spent doing paperwork.  Coupled with TransactionPoint, all parties of a real estate transaction have access to pertinent documents and status while TransactionPoint's robust workflow engine makes sure that all activities related to the transaction are effectively scheduled, monitored and communicated to these parties.  The result is increased productivity, reduced risk and improved service.    For more information visit www.zipform.com.
Transaction Point users are entitled to purchase ZipForm at a discount. Save over 15%. Click here for promo www.zipform.com/promo  Promo code w119.